Premierships
The club has won multiple senior A&B Grade Premierships since its formation in 1953 and added many more with the introduction of T20 cricket in 2004.
The inaugural A-Grade flag came in 1963/64 under the guidance of former WA State representative Trevor Bidstrup
After waiting 10 seasons to capture that elusive premiership, flags came at a more rapid rate during the club's glory days from the late 60s through to the early 80s.
During this period the Gee Bees enjoyed back-to-back flags in 1966-67 & 67-68 with the captain-coach being club legend and aggregate wicket taking record holder Barry Pascoe.
The Mighty Double Blues then created club history by winning three titles in a row from 1970-71,72,73.
This was achieved under the astute leadership of Gee Bee icon and Midland Guildford player Michael O'Shaughnessy, the lion hearted opening bowler.
Barry Pascoe also captained the club to two more premierships in 1974-75 & 75-76, combining with playing coach the tenacious keeper batsman Calvin Wilson. The 1978-79 season was outstanding as it was an undefeated year under the leadership of Bob Turner. 1980-81 Gee Bee stalwart and dashing opening batsmen Phil Kelly guided the side to a flag, then the second leg of two in a row was achieved under the highly talented Max Johnson in 1981-82.
English speedster and test player Paul Taylor delivered an overdue premiership in 1991-92 then former Claremont Nedlands top order batsman keeper and astute captain Danny Sudlow coupled with coach the legendary Denis O'Shaughnessy achieving the ultimate prize with success in 1993-94. The long awaited Premiership drought was broken in 2005/06 when another former Midland Guildford player and gifted allrounder Scott Tie captain coached the club to its 14th flag. Season 2020-21 was one to behold with former player and life member Dean Jerrard was at the helm as senior coach with outstanding batsman Bevan Bennell the skipper, the two blue army rewarded the club after enduring a dearth of success when they comprehensively defeated Hannans in both senior grand finals.
The Reserves 20 premierships  include four hat-tricks (1979-80,81,82, 1984,85,86 & 2015-16,17,18 & 2020-21,22, 23),with the most recent victory in 2022-23 completing that triple.
'B' Grade Premiers

2022/23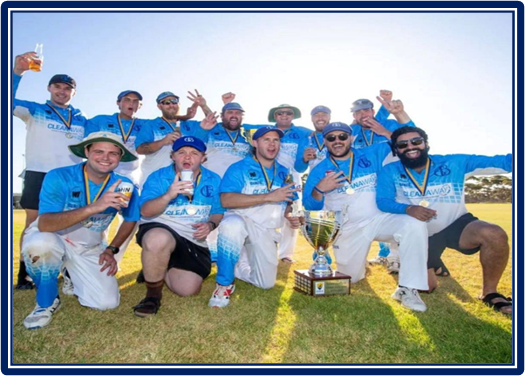 Twenty 20 Premiers 2022-23